Launched by the award winning writer-producer team of Wayne Grigsby and David MacLeod in 1999, Big Motion Pictures has produced some of the most memorable content Canadians have enjoyed on their screens, big and small. Productions include the multiple Gemini award winning mini-series Trudeau: The Man, The Myth, The Movie and the international hit mini-series Sex Traffic, which garnered a record breaking 11 Bafta awards and 4 Gemini awards, 5 seasons of Haven, the popular Syfy / NBC Universal series, a very successful co-production between Entertainment One and Big Motion Pictures, and the HBO Canada hit series Call Me Fitz, a co-production with Amaze Film & Television and eOne Television, two time winner for Best Comedy Series at the Canadian Screen Awards.
David MacLeod,
Producer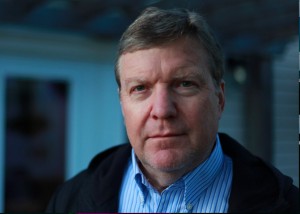 David MacLeod has worked in the film and television industry for over twenty five years. He has been a production manager, producer, second unit director and executive producer. He began his production career with experience on projects as diverse as Haruki Kadokawa's spectacular Samurai epic Heaven and Earth and Kurt Vonnegut's offbeat Monkey House for Showtime.
MacLeod production managed several early seasons of the Gemini award winning Canadian series North of 60. He produced the Louisburg NS shot, Emmy nominated TV movie The Song Spinner for Showtime, and co-produced Catch a Falling Star for CBS with Alliance Atlantis and Citadel Entertainment. He joined North of 60 creators Wayne Grigsby and Barbara Samuels as a producer on the Nova Scotia set series Black Harbour for the CBC in 1996. Black Harbour was nominated for multiple Gemini Awards, including Best Dramatic Series.
MacLeod has produced numerous projects as a principal partner of Big Motion Pictures including on going television series (Snakes & Ladders, G-Spot Season III, two time Canadian Screen Award winning series Call Me Fitz, and the Syfy hit series Haven), television movies (Blessed Stranger: After Flight 111, Task Force, Sleep Murder) and mini-series (Trudeau, Sex Traffic, October 1970, Jack London's Sea Wolf and Herman Melville's Moby Dick for Telemunchën in Germany) and the award winning Atlantic feature film Whirligig. He has just wrapped production on Pure, a televison series for CBC with Cineflix Media Inc, created by Michael Amo and directed by Ken Girotti. He's currently developing a limited series, The Great Farini co-created by Amo and Girotti, and well as a modern spy drama, This is Hell.
MacLeod serves on the board of directors for the Canadian Media Producers Association and Screen Nova Scotia.
May 2017