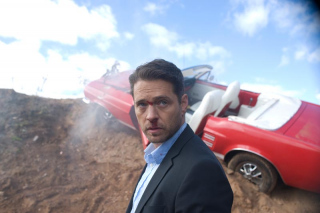 A twisted family dramedy about a morally bankrupt salesman who is forced to become business partners with his inner conscience, an off-beat do gooder intent on healing Fitz's mangled psyche, one hilarious disaster at a time.
Co-production with Entertainment One and  Amaze Film + TV
Season 1
In an attempt to secure his long standing hold on "Salesman of the Year" Fitz takes a potential customer for a test drive which puts her in a coma. The accident itself unleashes something in Fitz: the last unblemished corner of his damaged soul, LARRY, Fitz's 'conscience' or so he says when he shows up on the Fitzpatrick lot intent on rehabilitating Fitz's battered psyche and in turn, the entire Fitz family's sleazy way of life – not as easy as he'd hoped when daily events include impromptu porn shoots, black market kidney trading, sniper shakedowns, cowboy themed bachelor parties, long nights in the drunk tank, and more brain damaged sex than even Fitz can handle. All in a day's work – at Fitzpatrick Motors.

Season II
A cryptic prophecy. A witchy new employee. Used cars.
Yep, it's Season 2 of Call Me Fitz and someone wants our lovable scamp dead. But seeing how it's Fitz, a guy whose conscience complicates his every turn, rest assured, solutions won't be easy, lessons won't be learned…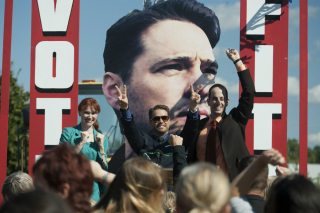 Season III
Politics. Power. Really pervy porn… it's a brand new season of CALL ME FITZ, and this year our cocksure anti-hero is back on top. Sure, a career selling pre-owned is pretty sweet, but why stop there when real power's within reach? Question is, how does a guy like Fitz get what he wants, when what he wants is always above the law? Public office, baby.
Call Me Fitz begins production on Season 4 this fall.
[Not a valid template]