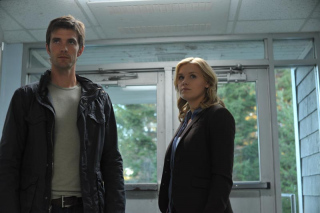 "It takes a village to hide a secret"
Haven, Maine appears to be just another lively, New England seaside town, complete with quaint shops, scenic beaches and a busy harbor.
But when FBI Agent Audrey Parker (Emily Rose) arrives on a routine case, she encounters the mysterious underside of Haven.  Her investigation leads her to discover that certain people in Haven are supernatural in a way that can't be controlled – and they often hide in plain sight.  She discovers that she alone is uniquely qualified to save these people, and she chooses to stay.
Based on the Stephen King novella 'The Colorado Kid," Haven is the story of Audrey's entry into this seemingly normal town.  Across the seasons, Audrey's quest to understand herself and the great mysteries of Haven will drive her ever deeper down the rabbit hole…

Season II
A supernatural drama following FBI Agent Audrey Parker, who in Season One was brought to Haven, Maine by a routine case.  The town turned out to be a longtime refuge for people that are affected by a range of supernatural afflictions.  Audrey chose to stay in Haven and explore its many secrets — including her own surprising connections to this extraordinary place.
TV series
Coproduction with eOne Television
SyFy / Global
[Not a valid template]